St. Mary's Catholic Parish

211 East Shanklin Street

Carrollton, Missouri 64633

(660) 542-1259

Rev. J. Kenneth Criqui, Pastor
Schedule of Sunday Masses at St. Mary's
Saturday Evening 5:30 p.m.
Sunday Morning 8:00 a.m.
Confessions: Saturday 5:00 - 5:20 p.m.
Sunday 7:45 - 7:50 a.m.
Weekday Mass Schedule for St. Mary's
Friday, June 28, 8:00am Living & Deceased Members of St Mary's
by St Mary's Altar Society
Saturday, June 29, 5:30pm +John, Phil & Matthew Peterson
Sunday, June 30, 8:00am Members of St Mary's Parish
Mass at Sacred Heart in Norborne is 10:00 a.m. on Sunday
Confessions at 9:45am
Weekday Mass Schedule
Monday, June 24, 6:30pm +Joan Davis
Monday, June 24, 7:00pm Parish Council
Sunday, June 30, 10:00am Parishioners    
Schedule for June 30, 2019
Lector: Susie Franklin
Servers: Volunteers
Offertory: Mr & Mrs Bernard Albrecht
Minister: Kathleen Murphy & Jane Weisz        
Money Counters: Jane Weisz & Anita Gibson
Announcements
A good website to learn about Catholic marriage – http://foryourmarriage.org
Please check this site for information for homebound ministries.http://onlineministries.creighton.edu/CollaborativeMinistry/online.html
OUR DIOCESE OF KANSAS CITY-ST. JOSEPH IS REACHING OUT TO EVERYONE WHO HAS BEEN IMPACTED BY ANY SEXUAL ABUSE WITH HEALING SERVICES visit this site for upcoming meetings. https://us-mg5.mail.yahoo.com/neo/launch?.partner=sbc&.rand=8d6hip7edhbc0#
Youth Group meetings will resume this fall, stay tuned for upcoming fun events!
Pime Missionaries will be here June 29th & 30th. Fr George Berendt will be coming to our parishes to present the mission appeal. He was born in Detroit, MI. He was ordained a Prime Priest in 1974. His first mission assignment was to minister to the people in Japan. And he returned to the United States in 1984. He has been working in many of our locations since then including time in Los Angeles, CA.
Second Collection: Thank you for your generosity in last week's collection for the Catholic Communication Campaign (CCC). To learn more, visit www.usccb.org/nationalcollections and click on the "How to Give" link on the left.
CCD Teachers Planning Meeting will be on Wednesday, July 10th at 7:00pm in Tally Hall. All CCD/Confirmation teachers need to attend.
5th Sunday Rosary is next weekend June 29th & 30th 20 minutes before Masses.
Thank you to the Charles Steele family for the donations to the cemetery and the altar society.
Donut Sunday is not being held in the month of July, see you in August.
St Mary's CCD & Confirmation Enrollment deadline is June 30. Parents, please find the CCD class lists on the table in the back of church to enroll your Kindergarten through Confirmation age children. Please follow posted instructions to enroll for next school year. Thank You!
St Mary's CCD Volunteers Needed to teach, co-teach, or substitute for classes September 4, 2019 thru April 29, 2020. Please consider and add you name to the volunteer list. Thank you!
SACRED HEART PARISH
Sacred Heart Parish Council will meet Monday, June 24th at 7:00pm.
Good news!
Our new Lifetouch mobile directory is ready!
Our mobile directory contains contact information for all the families of <NAME OF CHURCH/ORGANIZATION> and is an easy-to-use tool to help you stay connected. PLUS, you will see portraits of all our families that participated in our recent photography event. What a great way to connect names and faces!
To access the mobile directory:
Click on the link listed on our website, on our Member Only page 
https://mobiledirectory.lifetouch.com/411638/st-mary-catholic-church
Once you are logged in, you can scroll through the directory, search by name, view family profiles, email/call/map, and view staff only page. The onscreen Guided Tour will walk you through each of these areas.
To update your contact information, please contact Shawna Bartlett, 660-542-1259. Periodically, we will be hosting additional photography events to include even more of our family's portraits in our mobile directory. Connecting has never been easier! Check it out today.
Interesting Site:
https://www.catholicnewsagency.com/news/children-must-see-the-faith-lived-at-home-pope-tells-parents-39919
PLEASE REMEMBER IN YOUR PRAYERS
St Mary's Parish
Alma Norris (Jean Campbell's friend), Kathy Martin (Pat Calvert's cousin), Pat Becker, Beth Heil, 4yr old Tripp Hughes grandson of Rick Hughes, Afton Stark, Weston Robert Paul England, Joann Olvera, Paul & Barbara Pfaff, Evelyn Kipping McCorkle, Danny O'Neill, Anthony Tarquino (Teddy Clark's grandson), Jackie Martin, Joel Rivera, Mike & Mary Jenkins, Don Harper, Rosemary Kirkland & daughter, Denis Kovac.
Sacred Heart Parish
Carol Albrecht Norton, Helga Mueller (Renate Albrecht's mom), Rochelle Boatman Derickson, Roger Harper, Mary Scharff, Mike Franken, George Francis Berry, Jill McClure and Bob Ed Newham.
Military Prayer List:        
St Mary's Parish
Gabriel Conner and Steve Aderhold grandsons of Bertie Duvall.
Sacred Heart Parish
Lt. Patrick King. 101 Airborne Screaming Eagles son of Tom and Marie King, Hardin MO.
<![if !vml]>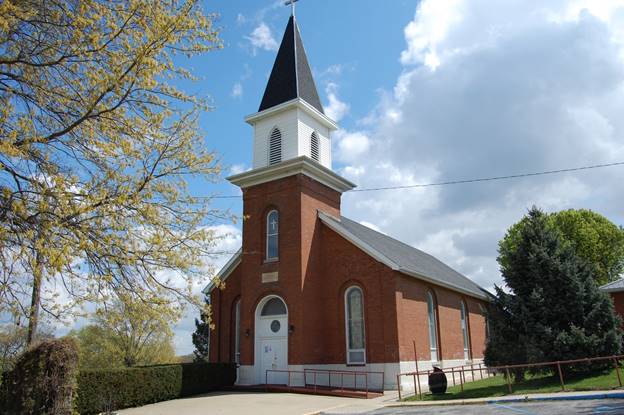 <![endif]>
What Should a Catholic
Know about Cremation?
The Catholic Church permits cremation. For a number of reasons, the church prefers the burial of the body, but it does permit the celebration of a funeral with cremated remains.
Among the reasons in favor of burial of the body are these:
<![if !supportLists]>· <![endif]>Seeing the body confronts people with the mystery of life and death.
<![if !supportLists]>· <![endif]>The body naturally recalls stories of faith, family and friend-ship, the words a person spoke, the deeds a person performed.
<![if !supportLists]>· <![endif]>Although we have virtual electronic friendships, people best encounter another person through the body.
<![if !supportLists]>· <![endif]>The body experienced the sacraments – being washed in baptism and anointed in confirmation, and by eating and drinking the body and blood of Christ in communion.
<![if !supportLists]>· <![endif]>The body is destined for the glory of the resurrection.
<![if !supportLists]>· <![endif]>The final care of the body demonstrates dignity for the whole person.
<![if !supportLists]>· <![endif]>Burial imitates the burial of Jesus body, and thus constitutes another layer of discipleship.
If a Catholic chooses cremation, the church prefers that the final disposition of the remains be in a public place, such as a cemetery.
 Many survivors make other arrangements: they retain the ashes at home, divide them among family members, or scatter them to the elements. The Catholic Church disapproves of these practices.
According to the Vatican's Congregation for the Doctrine of the Faith, the conservation of ashes in one's home is not permitted, nor may they be scattered in the air, on land or at sea. Ashes may not be preserved in mementoes such as jewelry (Ad resurgendum cum Christo).
The careful placement of ashes honors the remains of the deceased in the same way that burial of the body does. Furthermore, it gives a permanent place where future generations may visit to remember, and where the person's name can be honorably etched.
The Catholic Church also prefers that the final disposition of the ashes take place as soon as possible after cremation has happened. This will protect the remains from accidental or deliberate abuse.
Some crematoriums have a place where the family may gather during the process. If a family desires to be together, they may spend the time offering suitable prayers of thanksgiving and hope, such as Psalms 23, 25, 42, 51, 93, 114 and 115:1-12, 116, 118, 119, 121, 122, 123, 126, 130, 132 or 134.
There are three possibilities for the sequence of events. Here they are in order of preference:
<![if !supportLists]>1. <![endif]>The body of the deceased is present for the vigil service and the funeral Mass, and cremation happens before the committal at the cemetery. In this case, the body may be placed first in a ceremonial coffin that will be interred, and the removed from it for the cremation.
<![if !supportLists]>2. <![endif]>The cremation and committal take place before the funeral Mass. In this case, the cremated remains are interred in a cemetery or mausoleum, and then the mourners gather for the Eucharist.
<![if !supportLists]>3. <![endif]>The cremation takes place before any of the funeral rites begin, and the cremated remains are present for the vigil, the Mass, and the committal.
Whenever the ashes are presented in public for the funeral services, they should be treated with the same dignity and respect offered a human body. The container should be dignified, and the pallbearers should carry it with honor. Because of the compact nature of the ashes. Someone may be tempted to carry it more casually. It is all that remains of a human being. It deserves respect.
© 2016 by Order of Saint Benedict, Collegeville, Minnesota. Permission to copy this excerpt from Light in the Darkness: Preparing Better Catholic Funerals by Paul Turner (Liturgical Press, 2017) is granted for use in parish ministries only. All rights reserved.
MASS SCHEDULES: the Mass schedules for surrounding communities are: Brunswick: St. Bonafice, 203 E. Harrison St, Sunday 10:00 am,
Richmond: Immaculate Conception Parish, 602 S. Camden, Saturday, 6:00 p.m., Lexington: Immaculate Conception Parish, 107 N. 18th St., Saturday 4:00 pm and Sunday 10:00 am,
Chillicothe: St. Columban Parish, 1111 Trenton St., Saturday
5:00 p.m., Sunday 8:00 & 10:00 a.m.
Where to worship: Sunday isn't Sunday without Mass.
If you will be away from home on a Sunday and do not know
where to worship, call 1-800-627-7846 for nearby
Church and schedule of Masses. Or check the Internet site at
www.Masstimes.org.
For more information call the parish office at 542-1259
Office Hours Monday - Friday - 8:00am - 1:00 pm
Shawna Bartlett, Administrative Assistant
Renee Grant, Office Assistant
Carrollton Ministerial Alliance


<![if !supportLineBreakNewLine]>
<![endif]>